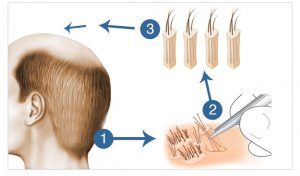 Both men and women can suffer from hair loss, thinning, and baldness. Hair loss can affect your confidence and your everyday life, and many people believe there is simply nothing you can do about it. At our Hair Transplant Clinic, we can do something about it for both men and women.
Men and women may suffer different types of hair loss, but we have hair replacement treatments for everyone. If your hair is receding, thinning, or falling out, we can help. Call and schedule a free consultation to discuss your situation and find the best therapy for you.
Natural Hair Transplantation
We believe your hair replacement should both feel and look natural. Our advanced treatments replace your missing hair with natural strands from your very own scalp. Our doctor is a trained plastic surgeon who can surgically remove hair from the unnoticeable areas at the back of your scalp and transplant the hair wherever you are experiencing loss. We remove and replace individual hair follicles for natural, customized transplantation, and we use the most advanced, safest methods in our surgical procedures.
The Right Solution for Your Type of Hair Loss
The science of hair loss and replacement has come a long way, and our Hair clinic  is at the forefront. The genes behind baldness can seem complex and random, affecting both men and women and sometimes skipping generations, so it is important to provide hair loss treatments that fit your particular situation. Balding and thinning don't look the same on everybody, because they can happen differently for each person. That's why we take the time to understand your type of hair loss and then customize our treatments to help you.
Get the Highest Quality Hair Replacement Around
When you come to Hungary, you will get the highest level of service, expertise, and safety possible. Our doctor has gone through extensive training and experience to provide the most natural and comfortable hair implants in Budapest. You will get the benefits of state-of-the-art equipment and procedures, combined with a friendly and caring staff. You don't want to trust your safety or comfort to just anyone, so come to Budapest, Hungary for cheap hair transplant!
Word of Caution for Comparing UK costs to Treatment Abroad
Don't get confused on hair piece and hair graft prices. Hair grafts may contain 1-3 pieces of hair on average. If you get a quote calculated for grafts you may end up paying 3 times as much if you have only 1 hair per graft (depending on your hair characteristics). Mind you – hair surgeons will transplant hair and not hair grafts and hair clinics will charge you per piece of hair in the end (grafts will be broken down to hair pieces). For more information read our hair transplant pricing hints.